You start the year with excitement, gusto, and the best of intentions. But somewhere along the way, the law of entropy barrels its way into your classroom and things start to slip.
Enter the 5-Day Classroom Management Tune-Up.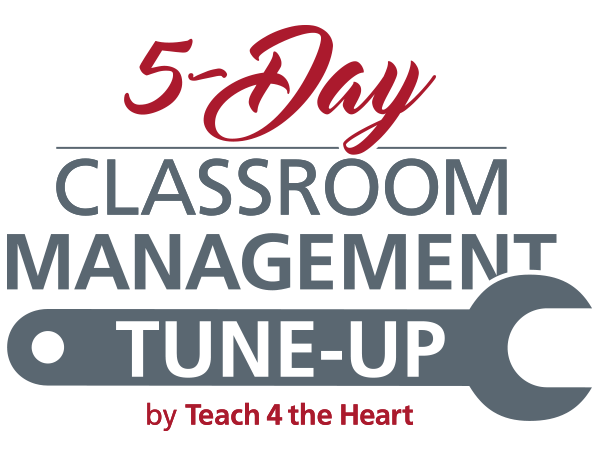 We'll walk you through five easy tweaks you can implement right away without any prep or planning. Tweaks that will cut down on all the distractions and restore your students' focus.
At the end of the week, your classroom will be less chaotic, you'll feel more calm, and your students will be more engaged.
Sound good? Click the button below to join us.
IN JUST 5 DAYS, YOU WILL...
TWEAK #1: SHORE UP YOUR PROCEDURES
You know those areas where students aren't quite following procedures the way they're supposed to? In day 1, you'll choose one of these areas to shore up, re-teaching and re-implementing the procedure to get things back on track.
TWEAK #2: RESTORE ORDER TO TRANSITIONS & THE START OF CLASS
If chaos reigns during transitions or at the start of class, this day is for you. You'll learn and implement simple strategies to restore order to these critical moments.
TWEAK #3: REIN IN THE TALKING
Choose from a variety of simple strategies to reduce off-task chatter and help students stay focused.
TWEAK #4: HEAD OFF ARGUMENTS WITH EMPATHY
Discover a simple yet powerful approach that will show students you care, prevent arguments, and help students learn from their mistakes - all without taking any extra time. Yes, it is that magical.
TWEAK #5: BUILD RELATIONSHIPS WITH YOUR MOST CHALLENGING STUDENTS
Employ a simple but effective technique to build relationships with your most challenging students - gradually earning their buy-in in just a couple minutes a day.
Your Instructor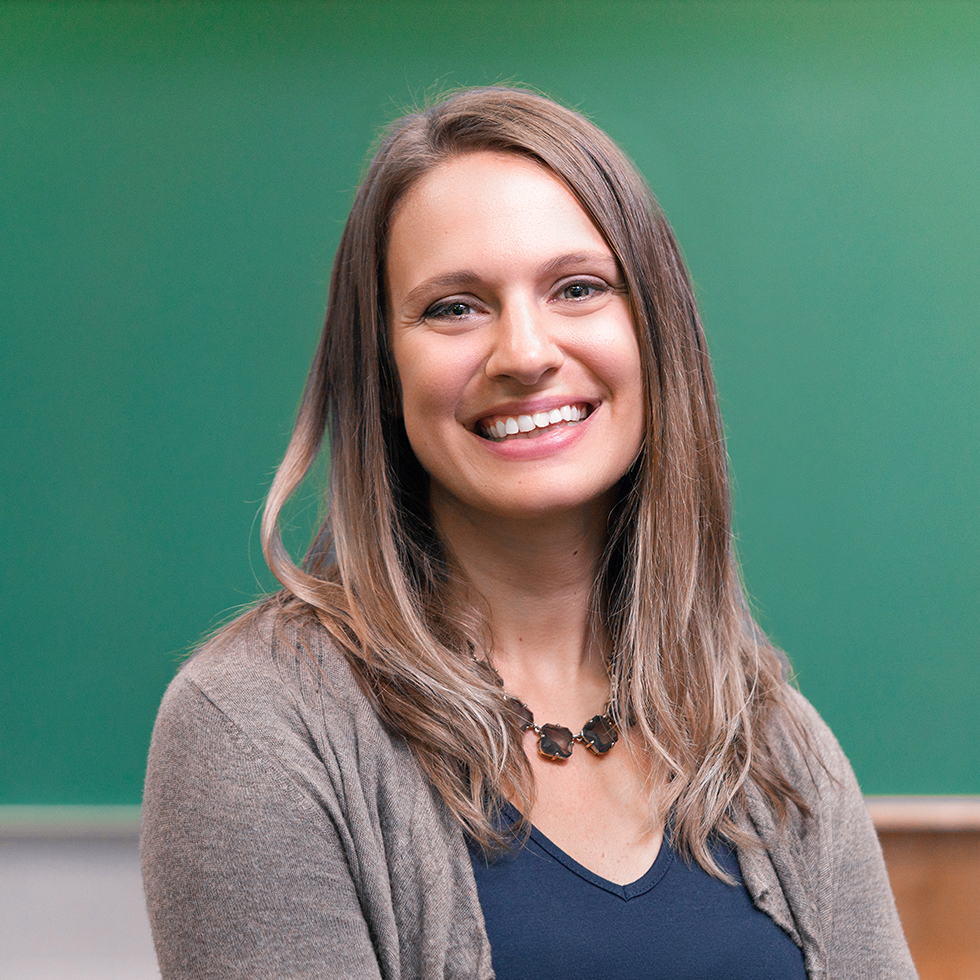 I always wanted to be teacher, but a few months in, I realized teaching was a whole lot harder than I thought it would be. Too many of my students just weren't listening to me; many were outright belligerent. My confidence plummeted, and as much as I hated to admit it, I wasn't enjoying teaching. Instead, I felt like a failure in my own classroom.
But God wasn't done with me. Through sound advice, a bit of trial and error, and much prayer, I gradually learned to keep my students' attention, and I started to believe I could actually do this.
As I stopped living in fear of the next problem, I began to look forward to teaching. And while I loved those ah-ha moments when my students finally got how to solve equations, the truest joy came from watching God change lives through me.
No matter what challenges you're facing, God wants to use you in your classroom. You're in the right place. Let's dive in.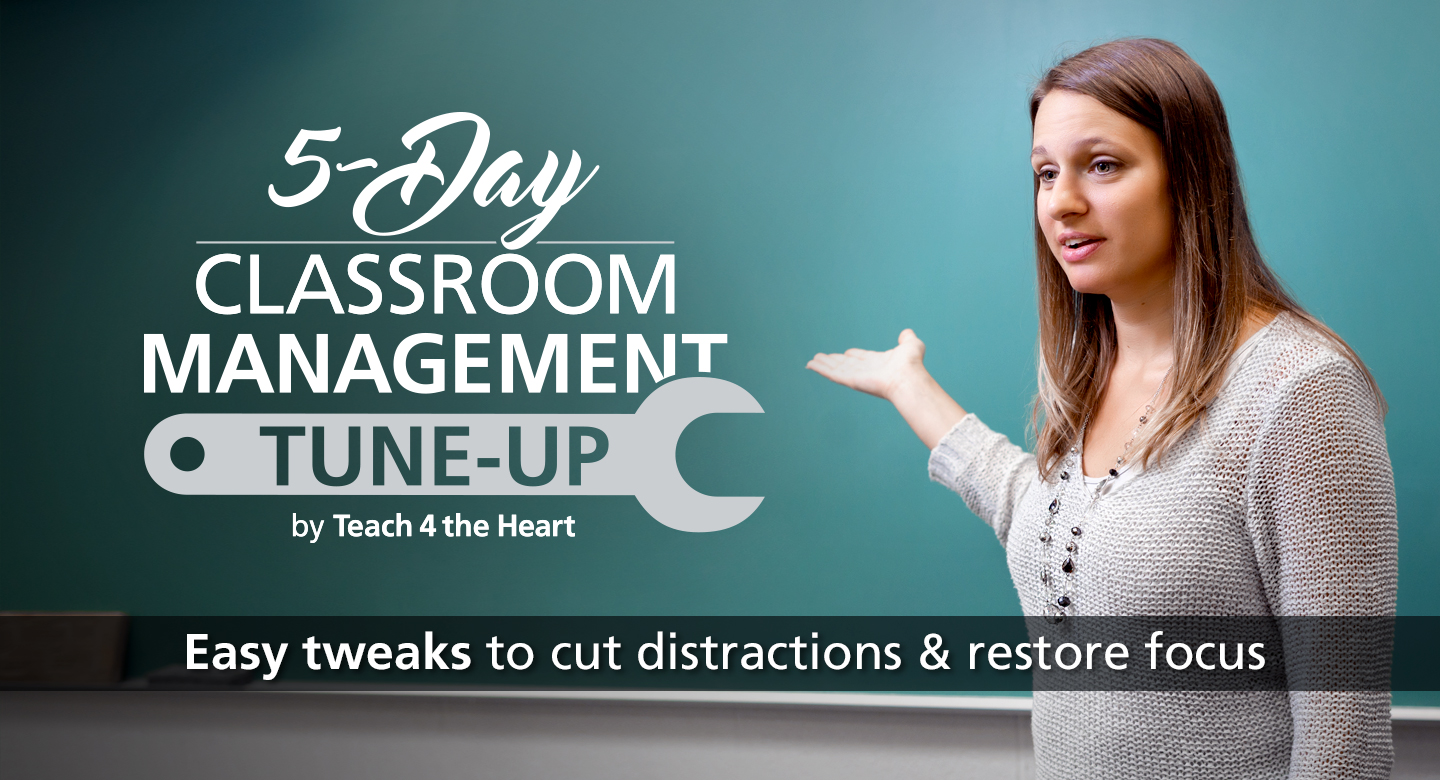 Frequently Asked Questions
When does the challenge start and finish?
The challenge starts right away and lasts five days. The good news, though, is that you don't lose your access to it - so you can choose to go at whatever pace works for you, or come back and re-read at any time.
How long will this take?
Short answer: not much at all. We've designed this tune-up to be super-fast and easy. All you have to do is read that day's challenge (no more than 5-10 minutes) and then try out the strategy. And don't worry, we've picked strategies that you can implement with little (if any) prep or planning.
How does it work?
Starting tomorrow, you'll get an email each evening containing that day's challenge and strategy overviews. After reading, you can implement the strategies right away, or hop over to the course to compare ideas with fellow teachers. Everything will also be available indefinitely right here in this challenge, so you can easily access the tuneup strategies whenever you'd like.
Course Curriculum
Getting Started
Available in days
days after you enroll
Next Steps
Available in days
days after you enroll
What people are saying about our other free trainings